The Draxian Sorcerer is one of the playable classes. It is focused on range and tactic combat. Using arcane power, the Sorcerer unleashes the true power of the Draxians. Blasting enemies with arcane novas and even transforming foes into wild creatures.
The Draxian Sorcerer's mission is to increase Draxinian knowledge and protect his faction from the wild Naru tribe at all costs.
she fights for knowledge using magic practice derived from supernatural sources.
Using magic staffs she obtain power of magic transformation and defense.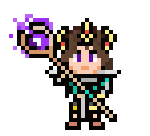 Combat
[
]
The Draxian Sorcerer has a strategy combat style. You can transform enemies in sheeps, slowing and dealing true damage with black hole. Also if they cath you, you can avoid them with magic shield.

Stats
[
]
Starting stats for the Draxian Sorcerer are listed below:
Starting Stats
Sorcerer
Health Points
Base Damage
Attack Speed (seconds)
110
12
1.5
Abilities
[
]
The Sorcerer's abilities are focused on strategy focus. A Sorcerer is necessary in every party, especially in team fights.
Arcane Shoot
[
]
Shoot an arcane missile shot
DMG: 12 + * 0.2 * PP * 12 // CD: 1.5
Arcane Blast
[
]
Magical blast that damage nearby enemies instantly with a chance of stun. You get extra armor
DMG: 20 + * 0.2 * PP * 20 // CD: 11 // RAD: 24 // STUN: 20% 1.5s // DEF: .perc=60%ARMOR .dur=3s // SHIELD: .perc=15%MAXHP .dur=3s
Black Hole
[
]
Cast a mystical black hole in enemy area dealing progressive damage in zone
DMG: (1 + 0.2 * PP * 1) + (1 + 0.2 * PP * 1*(1.5 + 3.5*(count/maxCount))) // CD: 14.5 // RAD: 30 //
SLOW: .succ=100% .dur=0.45s. .perc=(25 + (25*(1.5 + 1.5*count/maxCount))) //
PERIOD.: Number of Hits=10 TICK=0.5s // DURATION: 5s
Polymorph
[
]
Transform nearby enemies into a sheep, preventing them from attacking and reducing their speed
TRANSF.: 2.5s target cant attack .count=3 // CD: 45 // RAD: 36 // SLOW: .suc=100% .perc=80% .dur=3.5s